We offer:
Canvas Prints at approximately $0.20 per square inch plus shipping & handling. Fine Art Prints at approximately $0.12 per square inch plus shipping & handling. Double-Framed Print/Canvas at approximately $0.25 per square inch plus shipping & handling. Acrylic and Metal Prints are also available; please call for pricing. Sizes available for each print will depend on the crop ratio (2:3, PANO, 3:4, 1:1, etc.).
Please contact us with any questions:
(520) 233-1981
casadebacastudios@outlook.com
315 N Main St, Florence, AZ 85132
Thank you!
Michael & Janell Baca
Our Double-Framed Art
From the click of the camera to the finishing touches on the frames, these pieces completely reflect our artistic vision and create a style unlike any other. Our frames are great with many different styles of decor.
We hand make our frames in our shop. The black frames and white frames are slightly distressed, and the Kona frames and gray frames are stained. From the distressing to the wood details such as knots, every frame is unique.  Please see below for examples of the colors available.
Interested in our frames for your work? Please contact us for more information.
Frame Styles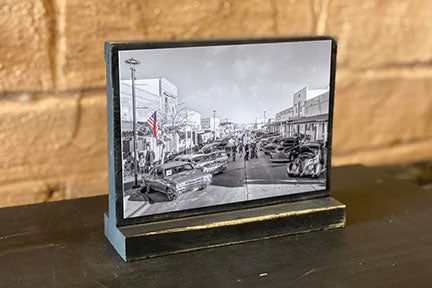 Desktop Art
We also make Desktop Art. The photo size is 5x7 and can be made for both landscape and portrait-oriented photos. We can also make them with your photo (depending on the quality of the file you have).